Financial Sponsor Coverage
We leverage...
our sector expertise and industry relationships to help financial sponsors grow their portfolio companies and maximize their value. In serving as a trusted advisor to the middle market, our dedicated, relationship-driven bankers provide merger and acquisition advisory services, domestically and abroad, across a broad range of industry sectors.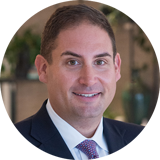 "We partner closely with financial sponsors, implementing creative, customized solutions to grow their companies and maximize their investment."
Doug Brookman, Managing Director, Investment Banking
Sectors
A sector-focused approach ensures customized solutions to address opportunities and challenges within your industry. Our expertise spans nine sectors, including those featured below as well as consumer & retail and business services.
Spark
Our quarterly email featuring insights on markets, sectors and investing in what matters