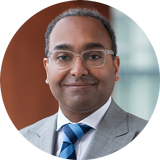 Bashir Ahmad
Managing Director, Research Analyst | Mesirow Equity Management
Bashir Ahmad is a Managing Director in Mesirow Equity Management.  He serves as a Research Analyst for the small cap and small-mid cap strategies and provides coverage for the consumer sector.
Bashir has more than 20 years of industry experience. Prior to joining Mesirow in 2021, he was the Consumer Sector Head and a Senior Consumer Equity Analyst at Concentric Capital Strategies and Millennium Management, respectively. Before that, he served as a Senior Equity Analyst at Cupps Capital Management. He also previously worked in Private Equity at CapitalSpring, and in Investment Banking at Morgan Stanley and JPMorgan. 
Bashir earned a Bachelor of Arts, cum laude in biochemistry and geology with a minor in economics from Vassar College, and a Master of Business Administration from The Wharton School at the University of Pennsylvania.