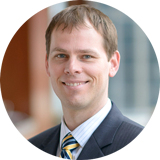 John L. Nelson, CFA,

FSA Credential Holder
Managing Director, Sustainability Portfolio Specialist | Equity Management
John Nelson is a Managing Director in Mesirow Equity Management. He serves as a Research Analyst and Sustainability Portfolio Specialist for the small cap & small-mid cap strategies and provides coverage for the financial services sector.
John has more than 19 years of industry experience. Prior to joining Mesirow in 2016, he was a Director and Research Analyst for Fiduciary Management Associates, LLC, which was acquired by Mesirow. Before that, he served as an Equity Research Analyst and Portfolio Manager at Gofen and Glossberg as well as an Equity Research Analyst at William Blair & Company.
John provides significant contribution to the firm's participation in the Big Shoulders Fund's "Stock Market Program" which provides education on the concepts of investing to eighth grade students in the neediest areas of inner-city Chicago.
John earned a Bachelor of Arts in political science and international affairs from the University of Nebraska and a Master of Business Administration with dual concentration in finance and accounting from the Kelley School of Business at Indiana University. John is a CFA® charterholder, member of the CFA Society of Colorado and the CFA Institute and earned the FSA Credential from the Sustainability Accounting Standards Board.