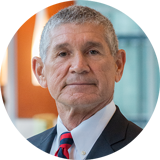 Michael Budd
Michael Budd,

FSA Credential Holder
Managing Director | Fixed Income Management
Mike Budd is a Managing Director in Mesirow Fixed Income Management. Mike co-chairs the Mesirow Sustainability Council, responsible for driving sustainable investing and corporate practices across the organization.
Mike has 40 years of industry experience and has been with Mesirow since 2020, when Chicago Equity Partners (CEP) Fixed Income team joined the firm. At CEP, Mike was a Senior Fixed Income Portfolio Manager focusing on mortgage, asset back and agency sectors and was also head of the Environmental, Social and Governance (ESG) Leadership Council, responsible for the firm's commitment to sustainable investing. Prior to joining CEP in 1989, he held positions at Bear Stearns and Company and at St. Paul Federal Bank.
Mike earned a Bachelor's degree from the University of Notre Dame and an MBA from Loyola University. He is a trustee on the investment board of Benedictine Sisters of the Sacred Heart. Mike is a member of Mesirow's Sustainability Council and earned the FSA Credential from the Sustainability Accounting Standards Board. In 2021 Mike earned a certificate in ESG Investing from CFA UK.