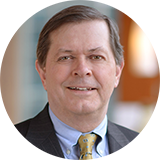 Peter W. Hegel
Senior Managing Director, Co-Chief Investment Officer, Portfolio Manager | Fixed Income Management
Peter Hegel is Senior Managing Director, Co-Chief Investment Officer and Portfolio Manager in Mesirow Fixed Income Management. He heads the Strategic Fixed Income Management group and is responsible for overseeing the mortgage-backed sector.
Peter has more than 40 years of investment management experience. Prior to joining Mesirow in 2005, he was a Senior Vice President and Portfolio Manager at Columbia Management. Before that, he was a founding member of Van Kampen Funds, where he served as Chief Fixed Income Investment Officer. During that time, he also served as Chief Investment Officer for Xerox Life.
Peter is also a current board member for the Barnabas Foundation and the Timothy Christian School Foundation.
Peter earned a Bachelor of Science, cum laude, from Purdue University and an Master of Business Administration from the University of Chicago. He holds FINRA Series 3, 7, 24, 53, 63 and 65 licenses.