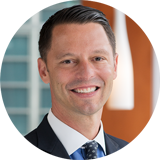 Proctor Robison
Senior Managing Director, Head of U.S. Rate Sales | Institutional Sales and Trading
Proctor is the Senior Managing Director and Head of U.S. Rates Sales in Mesirow's Institutional Sales and Trading division. In this role, he is responsible for expanding Rate and Agency platforms, cultivating client relationships and developing strategic growth initiatives.
Proctor's 25 years of prior experience includes nearly ten years working with Mesirow Institutional Sales and Trading as a Managing Director and rates salesman. He re-joins Mesirow from Vining Sparks where he served as Principal and head of the Chicago offices. Prior to joining Mesirow in 2009, Proctor held roles at Bear Stearns & Co. and Morgan Stanley.
Proctor received a Bachelor of Science in Finance from University of Illinois Urbana-Champaign. He holds Series 3, 7, 24, 31, 63, 65 and Eurex Trader licenses.